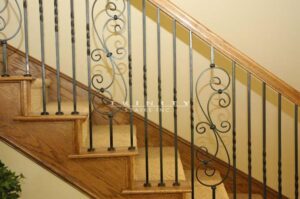 Balusters, or what some people refer to as "spindles", come in many shapes and sizes. You can combine different balusters into patterns or they can all be the same kind. You can also have different finishes, such as oil-rubbed copper to enhance the design.
With thousands of possibilities, it's tough to decide which baluster patterns you like best. Let one of our designers assist you or visit our showroom to see and touch them for yourself. It's amazing how dramatic the results are from a simple baluster change out. What's even more incredible is that most change outs can be done in a day!
We have our baluster patterns in different "levels" according to price. The higher the level, the higher the price. We provide baluster change outs/remodels as a service, so we do not sell balusters as parts for DIY.
Select a pattern level from the list below or use the Pattern Design Tool to design your own.
Note: Trinity Stairs is a service provider and offers custom design, manufacturing and installation services for these products.