About Trinity Stair Services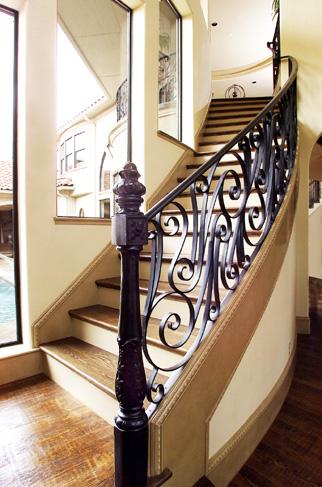 Trinity Stairs provides stair services for Texas in the Austin, San Antonio and Dallas Fort Worth areas.
Trinity Stairs' headquarters is located in Frisco Texas with offices in Austin and San Antonio.
For home owners, we provide stair remodeling services, custom iron work, iron gates and iron doors. We manufacture all of our products in our Frisco facility.
For local home builders and commercial developers, we offer stair services that are second to none. We are well known in the industry for having superior quality and reliability.
We have showrooms at our office locations where you can see samples of our products and speak to a specialist. You can feel and see sample balusters, doors, stairs, finishes and more. Please contact us for an appointment at a showroom near you.
Trinity Stairs does not sell most products on this website direct to the public. Trinity Stairs is a service provider and offers custom design, manufacturing and installation services for these products. Whether straight, curved or spiral, or of richly stained wood or custom-shaped iron, stairs make the statement of excellence and craftsmanship for the entire home.
Below is a list of reason why we are #1.

The History of Trinity Stairs
Trusted and reliable for over 20 years
Since 1993, Trinity Stairs, Inc. (TSI) has been providing builders and home owners with stairs that serve as the pinnacle of quality and design for their homes. Providing end-to-end project design, management, installation, service and quality control, TSI has earned the trust, respect and business of hundreds of builders and home owners throughout Dallas, Fort Worth, Austin and San Antonio.
Most importantly, we guarantee your experience with TSI will be a pleasant one. Call or visit us today. We'd love having you as our guest.
Trinity Stairs Idea Catalog
View our idea catalog for a quick sampling of our work.

Testimonials